This article was written by Ishaan when he was eight years old and was first published in April 2020.
The recipe we followed was shared by Ishaan's teacher. Since this was the first time we made these, we used only half the proportions. Here is what you need:
Ingredients
2 cups flour
1 cup salt
1 cup water
Rolling pin
Cookie cutters
Acrylic paints
Paint brushes
Method
Mix the flour and salt and then add the water. If the dough is turning out too dry, add a little more water. If the dough turns out too sticky, add a bit of flour. Knead into a smooth non sticky dough ball.
Pre-heat the oven to 120 degrees centigrade and line a baking tray with baking paper.
Roll out the dough using a rolling pin for uniform thickness.
Use cookie cutters to cut the dough in shapes of your choice.
Arrange the cut dough shapes on the lined baking tray. Use a chopstick to make a hole in the dough shapes.
Bake for an hour, flip over the shapes on the tray and bake for another hour. If your dough was rolled too thick, then roll for an extra hour.
Let the baked shapes cool down.
Get ready to paint it. Acrylic paints or sketch pens work well. Let these dry after painting.
Add a string to each and use these as gift tags or decorative ornaments. Enjoy!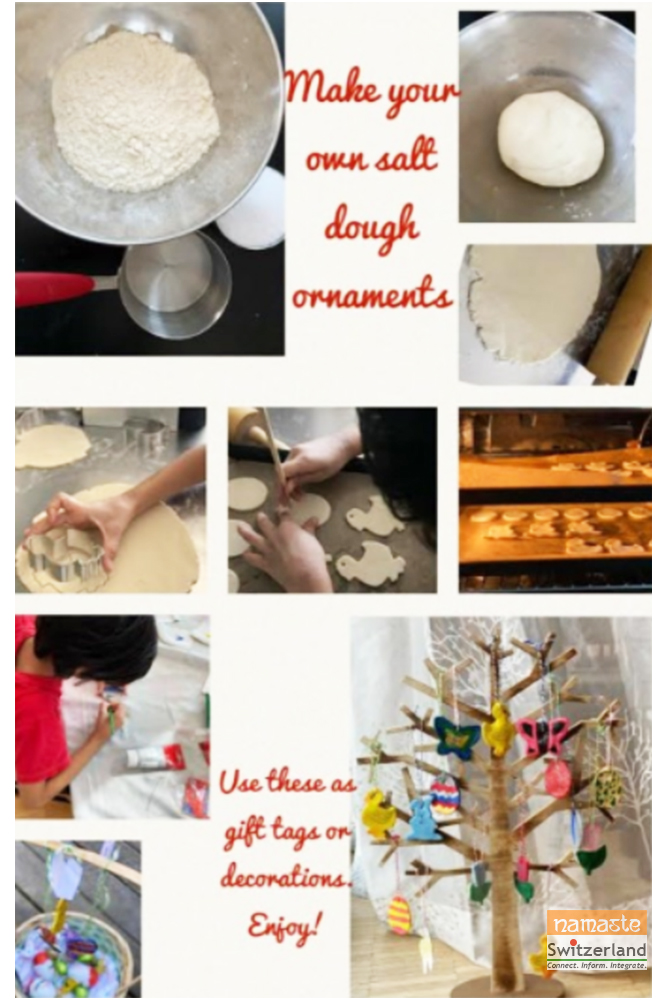 Disclaimer: Namaste Switzerland does not undertake any financial, reputational, legal, misrepresentational or other obligation or liability which may arise from the content of this article.